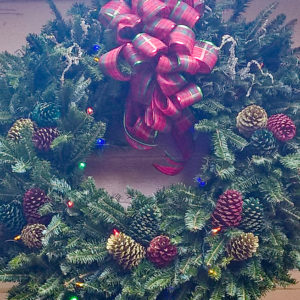 Tenth Annual "Friend and Fund Raiser"
Christmas Tree & Wreath Sale
Friday, November 24, until sold out!



Pre-order by November 22 and save 5%!
Cash, Checks, and Credit Cards Welcome
See below to order online using PayPal
Proceeds Benefit Church and Community Ministries in the City of Decatur, including the Toy Park
$10 delivery fee to local area (see map)


(conditions apply; sorry, no setup)
Contact information: call 404-378-3621 or e-mail us
What we are offering
We will have premium Traditional Fraser Firs, along with handmade wreaths, swags, mailbox covers, and bows. We will have trees ranging in size from 5ft up to 10ft. If you pre-order, your tree(s) will be available for pick up after 9am on Friday, November 24. Please come by to select and pick up your pre-sale tree(s) by Sunday, December 3. The earlier you come, the better your selection will be–we sell out quickly!
Don't need a tree yourself? Donate a tree to a needy family. Click here to request more information.
Dates
Sales on the lawn at the Church begin at 9am on Friday, November 24, 2017, and continue until we sell out! Closed on Mondays.
Sale hours

Pricing
Size

Price

5ft-6ft tree (Yellow tag)

$55

$52.25
6ft-7ft tree (Orange tag)

$65

$61.75
7ft-8ft tree (Blue tag)

$75

$71.25
8ft-9ft tree (Red tag)

$95

$90.25
9ft-10ft tree (Pink tag)

$125

$118.75
Order on-line!